First of all, I want to say that I got my iPhone back on Wednesday. It was a long wait but on the positive side I got a brand spankin' new one. Good times, as
Tim
would say. It was like missing a limb not to have it, which proves that the iPhone was the right choice for me. Honestly, I'd say the iPhone is for everyone. It's got everything you need (except Flash and a decent camera). So now on with the show. Last time I updated I purposely omitted my meeting with Madge. Of course you don't actually meet Madge, you see her on stage doing her thing and then she leaves. That's basically it really.
Well, we sailed from Millenium Pier to the O2 where the concert was held and apparently we arrived unfashionably early. Before anything else we went to the tats stand. You know, the place you buy the heartshaped sunglasses, hideous t-shirts and the tour programme. Naturally I got the programme which I will address later. For once Madgetastic was on time and he (I'm describing my friend here, not Madge - just thought I'd explain as that could be fairly confusing) had us eating our terrible concert venue pizza upstairs before heading into the arena (I suppose) while Paul Oakenfold was warming up the crowd.
I looked around to see how many people were there.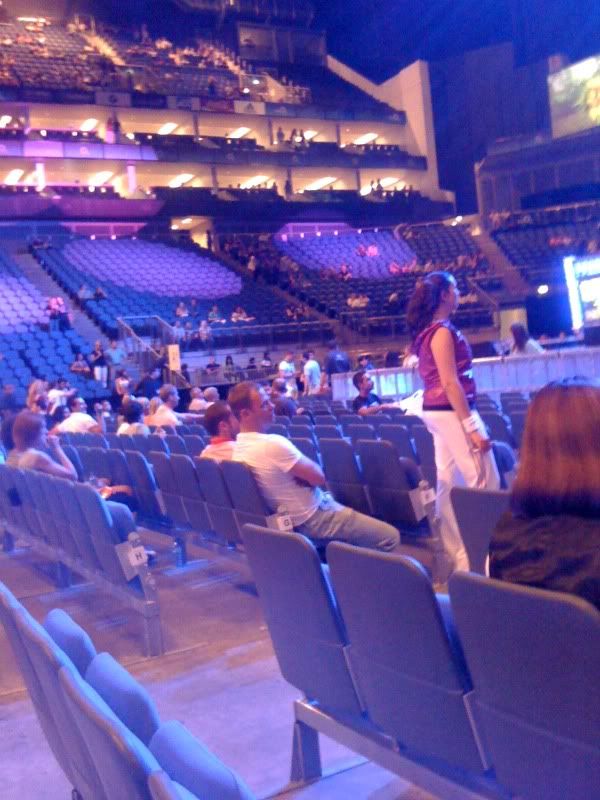 Clearly people could care less about Paul Oakenfold and cared more about hitting up Nando's outside, buying tat or dolling up in the loo. I could understand why because it was less than inspired and I got no warm feelings from looking at this sad old kreacher - to specify I mean Paul Oakenfold. He wasn't exactly warming anyones cockles.
So we patiently sat there waiting, and waiting for him to leave the stage. Then we waited, and waited until I spotted something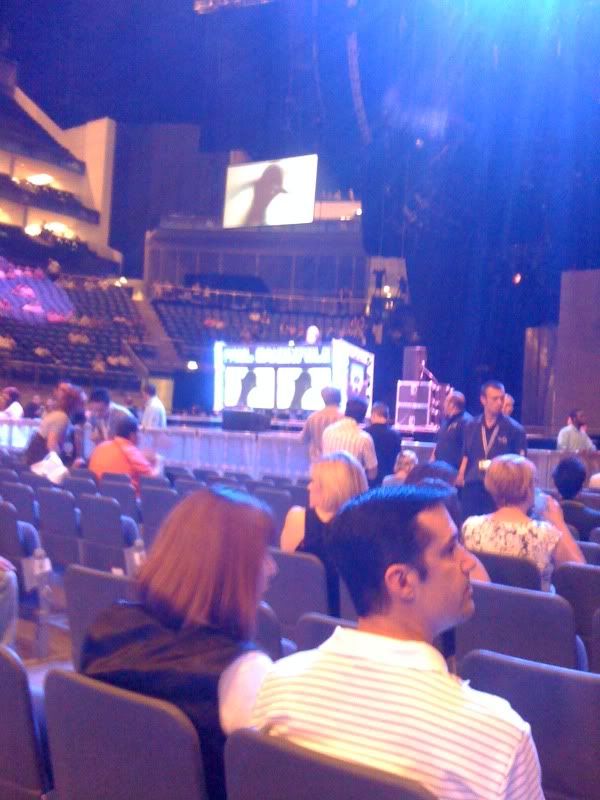 But I had spotted something. Four figures up near the far left screen. I swear one of the is the old bag herself. Unfortunately none of our cameras worked well enough to zoom in for a closer look but she was there. Looking over the few in attendance. It was kind of sad. Mostly for her and the kreacher.
Then the lights went out and all sorts of graphics whirled by on the monitors
A gumball machine. How inventive. Showing us how they were made from what I can only assume was old ingredients. All revealing her sitting on her throne - legs spread as wide as the old hip replacements would allow. It's amazing how flexible they make bolts, cements and plastic these days. Before we go further I'm giving you the set list.


Candy Shop


Beat Goes On


Human Nature (YAY!)


Vogue (YAY!)


Into The Groove


Holiday


Dress You Up


She's Not Me


Music


Devil Wouldn't Recognize You (YAY!)


Spanish Lesson (she always performs the ultimate stinker from her recent albu doesn't she?)


Miles Away


La Isla Bonita


Doli Doli


You Must Love Me


4 Minutes


Like A Prayer


Frozen


Ray Of Light


Give It 2 Me
Now going through this, I am not entirely sure if these photos are in order and for which song she wore a particular outfit. What I do know is that I've skipped some of the outfits because they were, to be quite frank, hideous. That doesn't mean that the ones on display here aren't hideous, it just means there was something somewhat interesting in the photo or I needed filler.


Madge went all out by taking a car with her on stage and was waving a piece of clothing in the air. We had hoped she had kept it all on though. She is scary looking.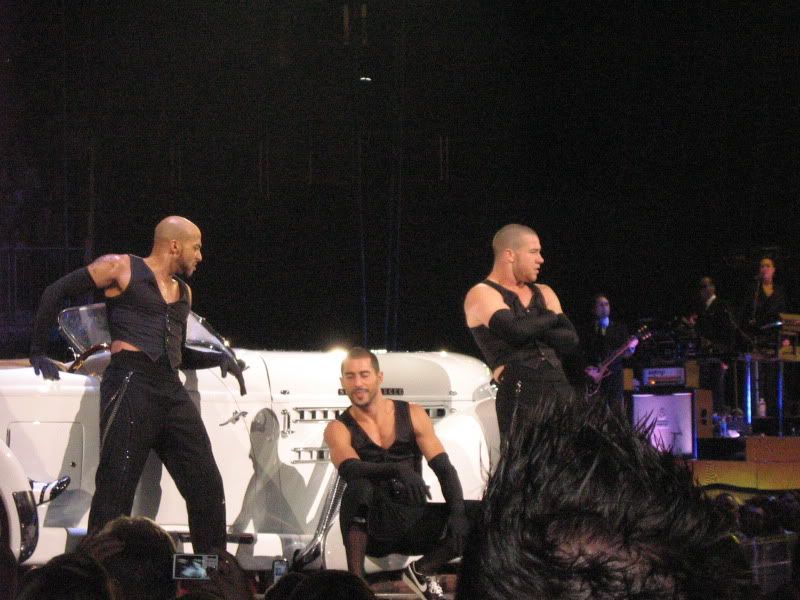 Most of her male dancers were quite good looking. There was one dancer though, with long hair. I don't fancy that.


On the Confessions on a Toilet tour Madge took out the old electric guitar and we were "treated" a few songs with Madge on the guitar. It was repeated on this tour. Apparently someone is under the delusion that they are a rock bitch.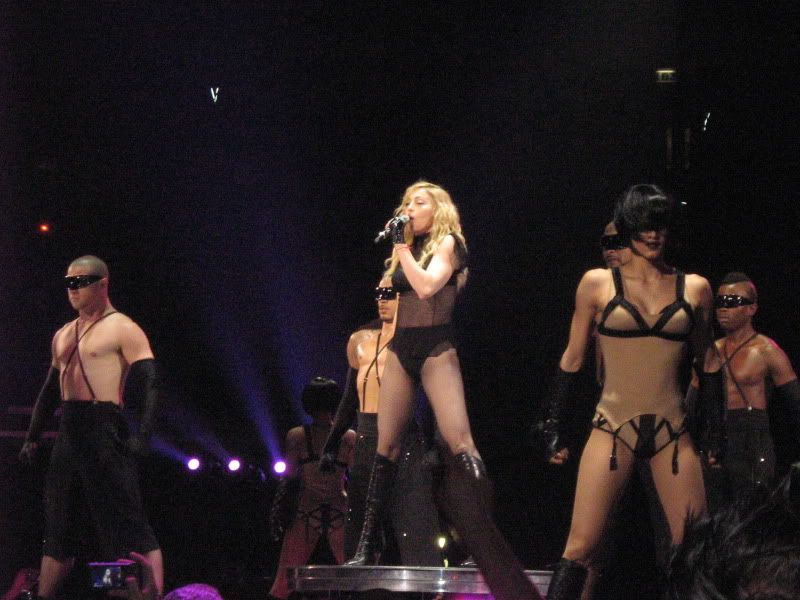 Then there was a bit of costume borrowing going on - but I suppose it's a tribute that goes both ways. Oh and notice sexy dancer on the right. Nice! And nice boots!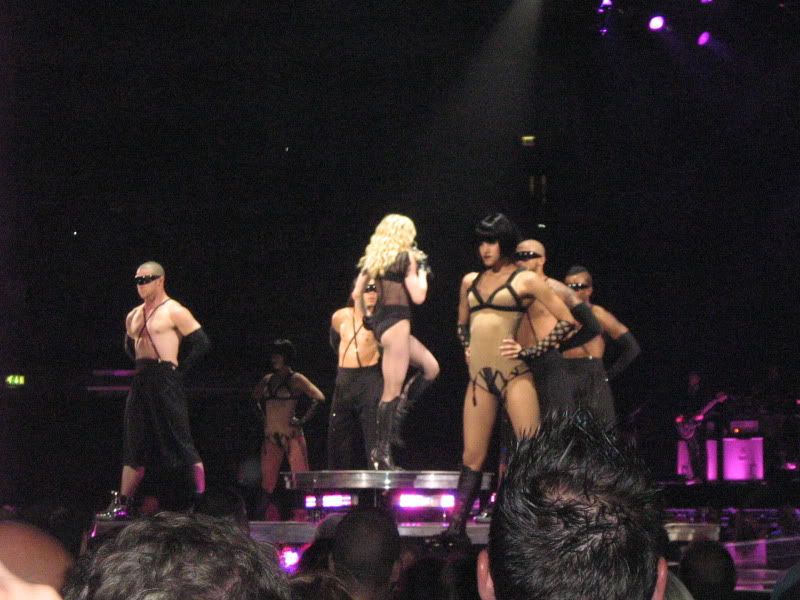 On a totally unrelated note I kind of fancied the guy in front to the right. Mostly for his hair though. The person to his left not so much.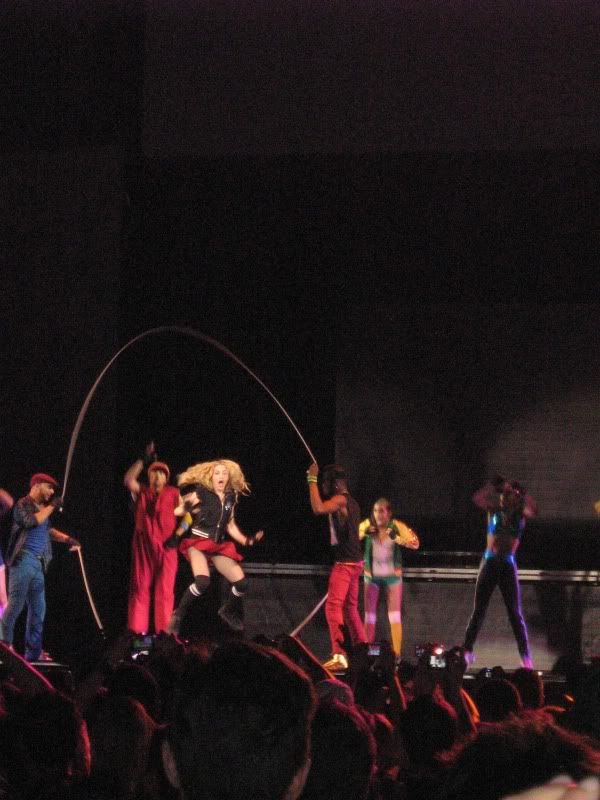 She jumped around on stage so much you'd think she was a 20 year old aerobics instructor. It was ridiculous. She could outdance all her dancers but it just looks wrong when a senior citizen does that.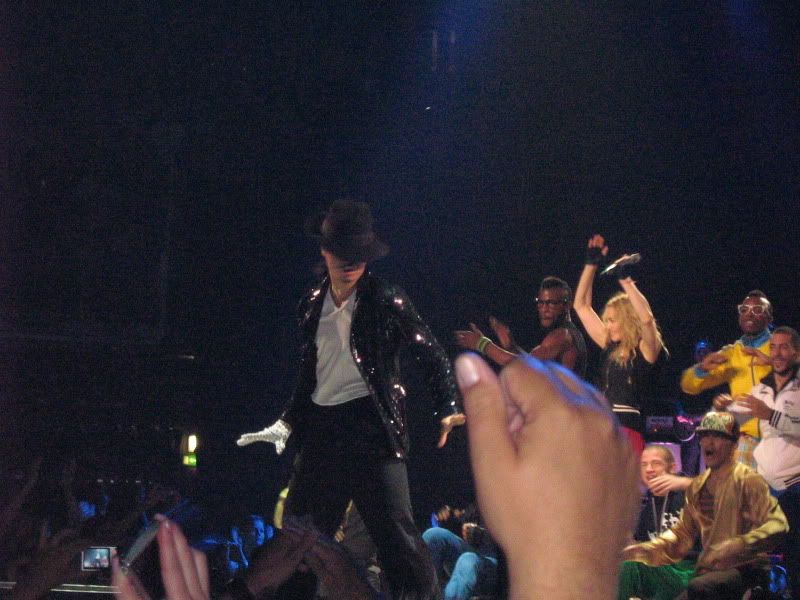 Then she capitalised on the death of Michael Jackson. It was not why we were there but it was all over the news. Even in Denmark. Madge is a cunning, cynical business person who knows exactly what makes the news. The person dancing was good at it, it was just in poor taste.



She got down and boogied with her male dancers.




I must admit Madge lost me long before this, but I was just about to get into the groove again when a bunch of Hungarian folk singers came on stage and started playing. It felt like they would never leave. I just couldn't get into that. They massacred La Isla Bonita - a favorite of mine.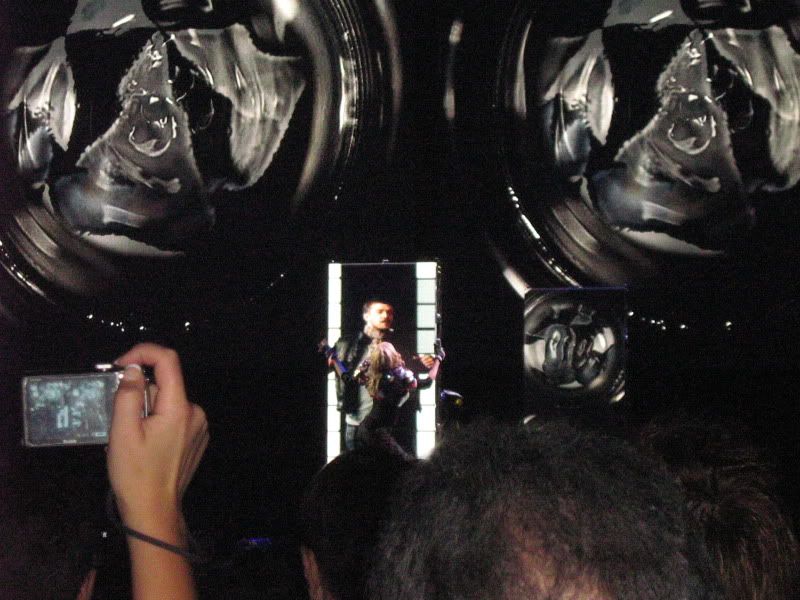 Then Madge molested the image of Justin Timberlake. He had to put up with a lot from Madges prosthetic hips whatever else was down those trousers.



See, the ugly male dancer was the one in the front to the right. I'm so totally not feeling Madges hair.




More guitar playing. The boots look like the ones from the 4 Minutes video. I'm wondering if the budget was spent mostly on makeup because surely the outfits couldn't have cost much.




If this was the actual ending to the concert I can't remember. What I do remember is that suddenly the lights went out. A big monitor said "Game Over" and that was it. No goodbyes or thanks for coming. Just the cold shoulder and giving us the finger once or twice. I swear I almost walked out.
Now these next images were ones I took with my iPhone. The ones above are mostly done by Madgetastic.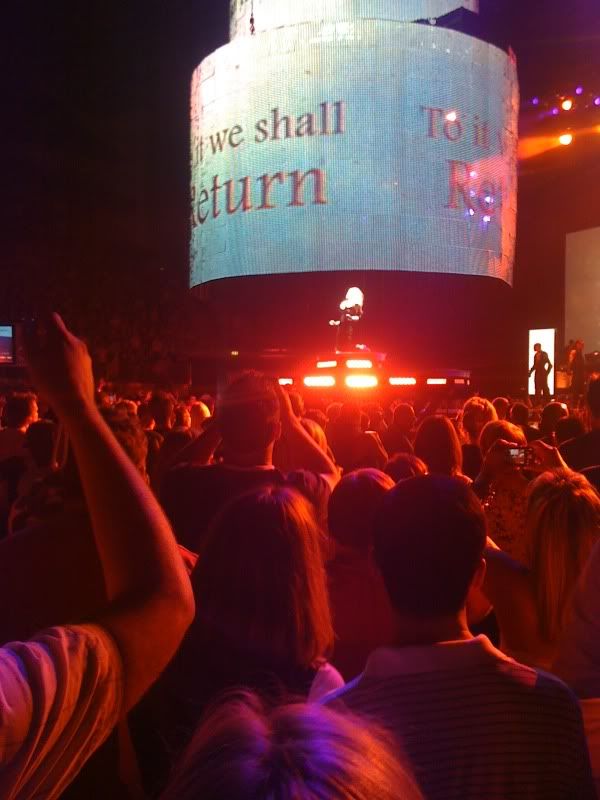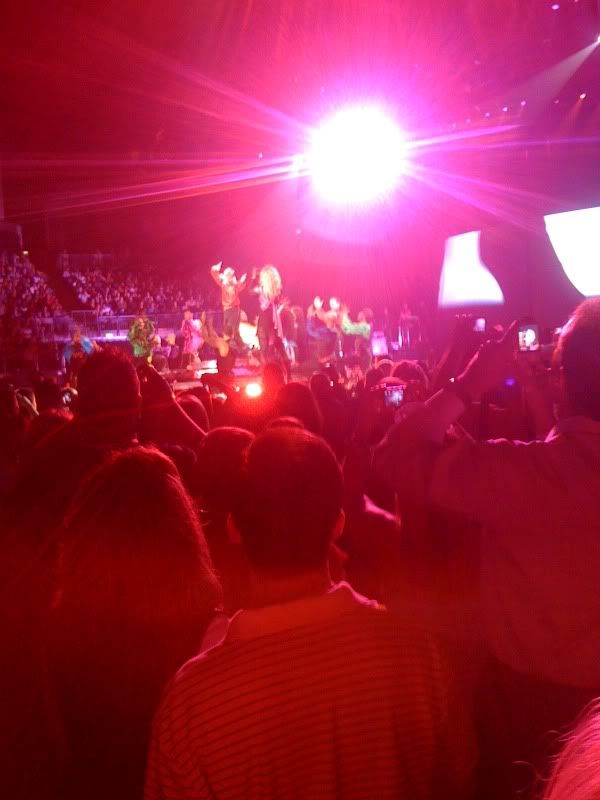 The God thing never gets old, or does it?
Anyway for the most part I had a good time. The Vogueing happened which was a huge plus. I had told Madgetastic that if there was no Vogueage going on I'd kick Madge in the groin and dump the remains in the River Thames. Apparently someone has connections. The dancing was too much, the vocal was alright, the visuals a little stale at times and the concept stupid. Madge does look scary in person. If you met it in a dark alley you should be very afraid.
I was more than happy that Madgetastic wanted to fly me to London to see the Old and Bitter concert and while it turned out to be more old than bitter, a good time was had by us. For me it was being in London more than the concert which is more show than concert. Not that there is anything wrong with that though. If I were a neutral party I'd give it 3 steel dild...sorry! microphones.
Well, I promised to come back to the tour programme. That was the lamest piece of tat in the shop. I should have bought the £8 button instead. It's just photos of Madge in very little clothes, airbrushed to oblivion and doing some sort of boxing stuff in a basement or somewhere dingy like that. Madges own person dungeon where Guy was chained up until he escaped long enough to get divorced?