As the first month of 2011 is rapidly coming to a close, and the only thing worth mentioning (except of course chatting up
Roses
on facebook and receiving a present from her because we love her here on Sayhey!) was that last week I got a text from the good people at MasterCard telling me to call them.
I did of course do that immediately, and they told me that someone had used it the night before - twice - charging a total of 3505 quid on IT goods. Outragious! The good people at MasterCard told me not to worry about it, and that they had taken care of it, and I wouldn't be charged. They obviously cancelled the card and are sending me a new one.
In case you are reading this, you, yes you - the one who used my card details - F*cker they are coming for you! Oh, and burn in hell.
With that out of the way, we now look forward to a new month and so far February looks like it'll be the most eventful month of the year. Doesn't say much does it, with two events. There are of course other plans in the pipeline for later this year which I of course will let you in on sometime soon.
The first event is on February 19 where I will take part in the opening night of Kylie's new world tour Aphrodite Les Folies 2011 (which takes name and inspiration from
Ziegfeld Follies
). Of course I'll be right in the middle of things. Fronrow and centre in the Splash Zone.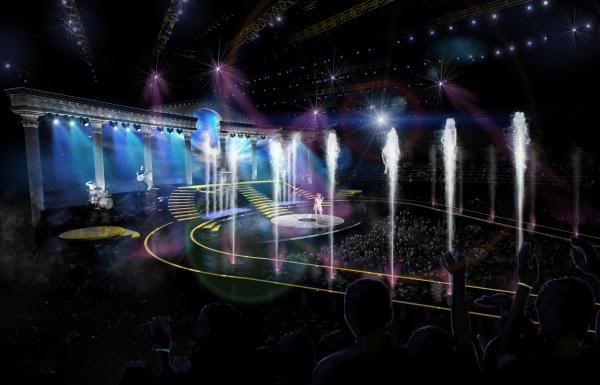 Apparently there'll be what the press release calls 4D visuals. I assume it'll be something like the Ralph Lauren fashion show
The water features in Kylie's show Aphrodite Les Folies 2011 are designed by the same people who do the Bellagio fountain water works in Las Vegas.
So, my pretties I do hope you'll get a chance to go. Miss K may be coming by a venue near you. For the unlucky US and Canadiennes out there - you'll be able to see a scaled down version of the show. Tour info can be found
here
. A tour not to be missed.
Australian dates to be announced.
The second event of February is the following where the Oscars - The Academy Awards take place live at the Kodak Theater in Hollywood. Again this year, it promises to be a show with glitz and glam. Of hits and misses and another year where Jim Carrey and Russell Crowe don't stand a chance in hell to win an Oscar. Good times!
A Danish movie is yet again nominated for an Oscar Hævnen -
In a Better World
in the category Best Foreign Language Film. It has already won a Golden Globe which of course Ricky Gervais mentioned (he was right) was the category that nobody cares about. I of course have no desire to watch the movie but everyone's raving about it.
I LOVE the Oscars. They've always meant something to me, and they still do. It used to be exclusively about the outfits and speeches but over the years I've become more and more interested in the movies we celebrate. It would be nice to have watched at least one of the movies before the show. Just to know what all the fuss was about. For instance the movie which was nominated for the most Oscars,
The King's Speech
. A whopping 12 nominations, and yet it's not coming to our cinemas until April.
To be honest I feel cheated. I watched a couple of the movies. Inception and Harry Potter 7 part 1. That's all, and yes
Black Swan
and
The Social Network
have been shown here and I'm now ruining my arguement. Still I find that every year, movies that haven't seen the light of day here due to distributors stalling, are honoured at the Oscars. They should be honoured because they are some of the best movies out there, yet it would be nice to be able to sit there on Oscar night thinking that out of the 10 (seems excessive doesn't it?) movies nominated for Best Picture you really thought X should have won instead of Y. For me, so far, I'll be thinking back to Inception and not being able to compare it to any of the other nominated movies.
On the subject of nominations for Best Picture, yet still going a little off on a rant when I should be wrapping this up. Well, 10 nominations for Best Picture? It seems a bit excessive. Is that a flexible category? If the movies stink next year, will there only be 3 nominations or will they have to nominate something like The Green Hornet 3D?
Bleugh!
If you have 11 minutes to spare, here is a nice little Australian short film in which Kylie goes beserk. I know, speaking of Best Picture and all that..