UPDATED: Scroll to the bottom for more info!
I don't remember exactly when I started watching the Oscars, but I remember the first time I watched it was in my bed. Since then it's taken a life of it's own. Now it's lushious dinner, Champagne, chocolates and whatnot. I also started out not so much interested in the actual awards. Now don't get me wrong, I still adore the red carpet and it gets my full attention, but the actual awards now get just as much attention.
Also, I was kind of roped into doing a live blogging of the awards, and I still think that's a mistake but for you my dears, everything! It'll take the format of the fabulous Twitter network where you get a little comment about something rather once in a while. It can be anything from who wins the award to how a dress looks or how good (hello Sandra Bullock darling!) or bad (hi Halle Berry dear!) an acceptance speech is. Or whatever.
The show hasn't started yet, but while I gather the last bit of chocolates and grab another bottle of Champagne, please do chat amongst yourselves.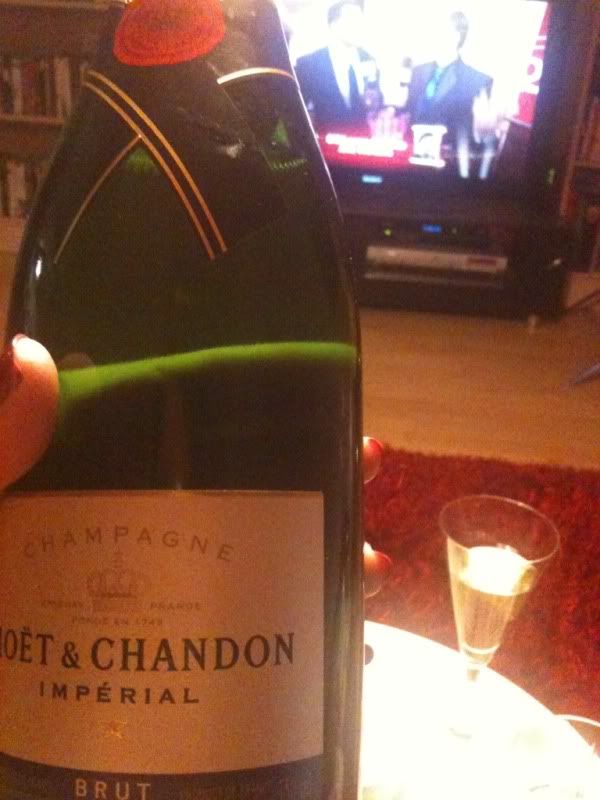 Here we go...
Ok, funny into going on. James Franco is a lot more attractive than Alec Baldwin that's for sure.
Um, James Franco in a white leotard. You'd think this was hot but it really isn't.
OH hello there Anne Hathaway in a gorgeous bejewelled white grecian dress. I love Anne (will probably say that a lot tonight)
Who is the woman with Marky Mark? She looks a little bit like Molly Sims, maybe a poor mans version.
The Academy Award set design is really nice this year. Less sparkly and gaudy. A little bit kool.
Tom Hanks just needs to stand there to bore me. It doesn't take much at all, when he opens his mouth *YAWN!*
I think first Oscar was for set designs and was won by Alice In Wonderland? I kind of tuned out because I was bored out of my mind by Tom Hanks. Sorry, hopefully he won't show up again.
Oh, he continues.. He's put his glasses on, and no it doesn't make him look any less boring.
Wally Fister won for Inception. Not sure what the award was for though. Just thought the name was worth mentioning.
I love Amy Adams!
Oh, Cinematography was the Wally Fister Oscar. Bless.
I liked the intro to the show with James Franco and Anne Hathaway visiting the nominated movies in the good old Inception stylee
Oh, oh Kirkie! Kirk Douglas is in da house! Wonder where Michael is - is he in the In Memorium segment?
I don't understand a word Kirk Douglas is saying. Bless. I feel like they pulled him out for the novelty factor. Poor guy.
Best supporting actress award now! I want Amy Adams to win, but it will probably be Melissa Leo.
Awww the little girl is cute with her diamond hairband.
Hugh Jackman is HOT! I liked him as an Oscar host. A lot actually! He wears suits very well, as well as nothing.
Kirkie is stalling, and it's torture to the poor girls who haven't eaten anything in days.
Melissa Leo won and oh my god she's going to cry. I can feel it.
I hate Melissa Leo's hair. The dress is lovely. She was in Marky Marks movie The Fighter. She's sweet.
Still want Amy Adams to win.
Ooooopsie! Cussing on stage? No, no. There we go, come on cry cry cry - you know you want to!
Lost interest, go way Melissa. Thank you.
Hello there, hi Justin you look really pretty. Marry me?
On a totally unrelated note, I'm feeling a little tipsy. Where are the caviar puffs? WAITER!
Animated feature film - exciting stuff? It'll probably be some Hollywood thing that wins. Toy Story 3 anyone?
I just knew it! Bless. I wouldn't know if it's any good. I gave up watching Toy Story 2 obviously I haven't watched this sequel.
The winner is yammering away and he has dark circles around his eyes. Looks like the masks Robin wore in Batman & Robin..
He (the winner for Toy Story 3) was no super hero though.
On the Danish transmission we don't get commercials, but rather 3 specialists, they call themselves. They analyse the show and winners.
I love clips from the old shows, and past winners.
Penelope Cruz closeup. I didn't need to see *THAT*
I find white tuxes tacky.
Aaron Sorkin just won for The Social Network - adaped screenplay. What a dull movie.
His speech is just as dull.
Oh, the music, I love the - get the fuck off the stage music - and Aaron Sorkin is just not getting it. Send Kirkie back out there and pull him off stage.
Must say he's not winning any awards for his speech.
First win for The King's Speech (Original Screenplay) one of many if you believe the bookies. Funny man, he is. I like him a lot. No idea who he is but do I care. No.
Aaron Sorkin, take notice! That's how you do it. Short and sweet, and funny!
I am watching The King's Speech on March 9. Not very fussed about it, but I'm sure it's great.
Anne Hathaway is singing, and it sounds nice. The shoes are HOT. They are sparkly Louboutin's. I can't remember what they are called, but they were in the same collection as Bridget's Back!
Wow. James Franco as Miss Marilyn Monroe. Nice arms!
First jab at Charlie Sheen!
Helen Mirren looks amazing and speaks fabulous French!
Foreign Language Film - WE ARE NOMINATED! Susanne Bier for In A Better World. Must win!
YES! She won! She's so pretty, let's see if she cries.
She's shaking a lot, wow! At least she didn't fall.
Reese Witherspoon in a black Armani Privé. Hate the hair, but a lovely and very safe dress.
Mark Ruffalo is always charming. Ben Affleck looked hot in that Jeremy Renner movie, as did Jeremy Renner.
Christian Bale, winner of supporting actor. He should have shaved. He looks like that dull guy from Castaway.
Now we are down to less than half a bottle of champagne. Got another bottle in the fridge though.
A sort of brown dress on someone from Disney. It works! Maybe you'll see this in my red carpet post later today/tomorrow
Hugh Jackman is so hot. I like Nicole Kidmans hair and necklace, but the dress is not my cup of tea. Well maybe a cup of green tea, I don't like that.
Who scores most originally you may ask? The answer's on a postcard, or well, forthcoming.
The Social Network, Trent Resner and someone else. We are not impressed as we like A.R, Rahman.
Trent is attractive though. Oh, he's married. Never mind.
Matthew McConaghey and Scarlett Johansson presenting best sound or something. I just couldn't get past the fact that Matthew needs a haircut and Scarlett needs a new dress.
Matthew McConaghey is either very tanned or Scarlett Johansson is very pale. Either way, it looks ridiculous.
He looks good in a suit though.
Tron Legacy lost best sound editing. The Shame (haven't watched the movie and don't know what it's about but it looks interesting hence it should win)
How can you not think this is best for sound editing?
James Franco is not as good a host as Anne Hathaway but he looks good. Thank you Academy!
Oh, oh, Marissa Tomei in a vintage dress. Love it.
Oh god, I really hate Cate Blanchetts dress. Absolutely hideous. Maybe interesting, but definitely ugly. You'll see this in my red carpet update for sure.
The Wolfman won best makeup. Just as Cate Blanchett said about her dress "it's gross!"
Or, maybe she means the makeup in the movie that just won? Nah, she must mean her dress.
Costume designs! I love that category.
Alice in Wonderland? OH well, at least it wasn't that hideous western True Grit. The winner previously won for Memoirs of a Geisha and Chicago.
She's shy, reading out of a note. Come on, look at us at least once!
People are less excited about winning this year. Or there's more reading from cards and jammering on about everyone they've ever worked with.
Kevin Spacey singing, no no no. You are NOT George Clooney!
Helloooooo? Is this thing on?
Randy Newman is singing the Toy Story 3 song We Belong Together. I'm not a fan.
Maybe if I had some more champagne?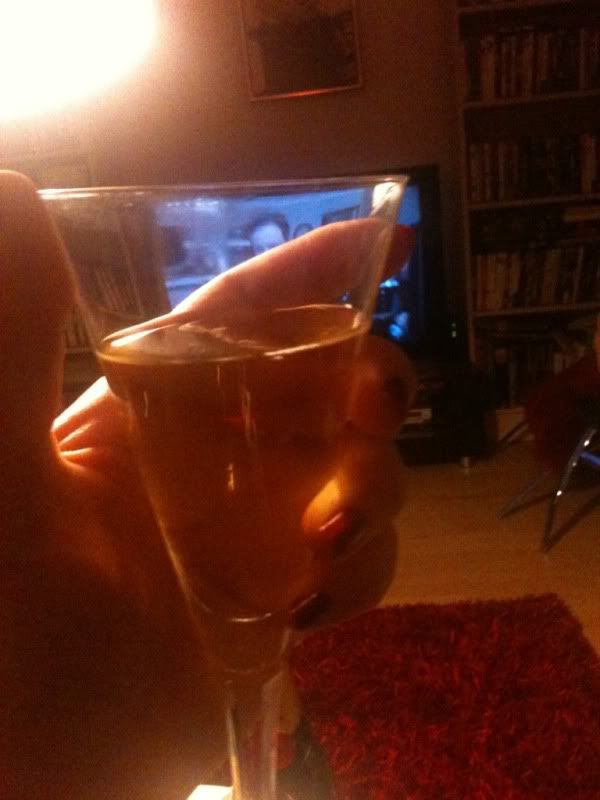 Mandy Moore singing with some hottie. Not bad. I like this.
Actually, I quite adore Mandy Moore. Her dress looks gorgeous. A blue waterfall type dress.
Oprah is coming up. WHY? It's like, why is she there? It seems she's keeping Celine Dingdong and Mr. bad wig Trump
Apparently Mo'nique who won an Oscar last year refused to present an award this year - do you know why?
Amy Adams and Jake Gyllenhall make a gorgeous couple. She looks a bit nervous or maybe she's just peeved she didn't win (I don't blame her)
Love Amy Adams dress!
Nice afro! The guy Luke Mahene, The God of Love - well, his hair is insane. He's just thanking people we don't know, at least he does it quickly. Bubye!
Awesome dress and hair for Anne Hathaway!
He doesn't own a shirt - Taylor Lautner! HOT! That's about the only Twilight thing I like.
James Franco is good at standing there looking kool!
Look! It's Oprah with the humungus boobs!
They are really gigantic aren't they!
Oh, Robert Downey Jr. is coming up - I'm sending you lovely thoughts
Roses
.
Billy Crystal is here, hello! Well, now that you've seen the venue from inside you can go again. Thank you.
We here at SayHey love Bob Hope!
If only Robert Downey Jr. and Jude Law could make out.
Jude Law is the best dressed of the two. Sorry Robert.
We've now made it to the stage where there's a million people coming on stage for the acceptance speeches. It bugs me.
I am at the moment talking about Inception winning for the special effects I think.
The Social Network won another award. I was hoping that the speech wouldn't be as dull as Sorkins. At least this was shorter.
Anne Hathaway changed dresses again. This is a red dress and I like it. Her hair is again, fabulous.
Jennifer Hudson in an orange dress with her boobs strapped in the halter top but still doesn't look good.
Her hair is pretty though, and she's lost a LOT of weight. Not sure I like that.
Another musical number but this is weird. It's A. R. Rahman but it's still weird.
Ugh, now dull Gwynney is singing, or she tries to. I'm not buying it. Ugly microphone (is it a Mr. Microphone?).
Jennifer Hudsons boobs are squashed by the halter top. Not flattering.
Toy Story 3 won for best original song, Randy Newman. His second win and 20 nominations
His speech was somewhat funny.
After the break it's In Memorium.
Celine Dingdong is singing honouring the dead.
Tony Curtis, William Fraker, Leslie Nielsen, Patricial Neal, Robert Culp, Lynn Redgrave, Jill Clayburgh, Dennis Hopper, Blake Edwards, Lena Horne and all the others.
I am sorry to say, but I had forgotten a lot of these had passed. Like Dennis Hopper, wow! When did that happen?
I don't like Celine Dingdong and she scares the bejesus out of me. Thankfully we didn't see her much and I am a big fan of mute.
The analysers are jammering on about there not being a female director nominated this year. Oh, well, get over it.
Another gorgeous gown for Anne Hathaway!
Even Hillary Swank is wearing af fab gown. To bad she looks awkward in it.
The King's Speech won another award. Do we have an Oscar count? I don't remember. I know that Inception won 4 so far.
Awwww. Nice speech for Tom Hooper from The King's Speech. I won't listen to my mother though.
Not sure what I think about Annette Bennings dress. It's a little like an outdated Tron dress. I like her though. Yet, I don't want her to win best actress.
Hello Mr. Eli Wallach. I like him a lot. Much respect and he's less painful to listen to than Kirkie Douglas.
Jeff Bridges seriously needs a shave. He's presenting best actress. Let's see if it won't be Miss Portman for Black Swan.
God I hope Natalie Portman wins.
Yay for Natalie Portman! Her first nomination was for supporting actress in the (dreadful) movie Closer.
You can rest easy
Princess
because Nic didn't win.
Natalie, you are getting boring, you're oh so boring and I don't recognise the zombie you've turned into.
Oh oh Sandra Bullock! I LOVE her.
She's so funny.
Colin Firth won. This was no surprise what so ever. He should have won last year for A Single Man though.
Colin is fairly amusing compared to Natalie Portman.
Right, Colin darling, I think it's time for you to bid adieu while the audience is still forgiving because your speech is becoming rapidly more dull by the second.
I hope Black Swan wins best movie, but it most likely won't.
The King's Speech won.
Now, the PS22 chorus is singing Somewhere Over The Rainbow. I much prefer this
So, that's it. It's all over now. Another year and we'll be here again maybe live blogging or maybe not. Nobody has commented yet.
Stay tuned for a red carpet event later today.
UPDATE!
Join 'Petra over at
'Petras Palace
for a thorough walkthrough of the Oscar Red Carpet, and you
may
see why Nicole Kidmans' hands are so hideous.