So there was the Eurovision Song Contest live from Moscow. Did you miss it? I didn't. I've seen the show twice. First the Danish transmission which was rubbish because the commentator was dull. Very dull. Then of course I watched the UK transmission. I do that every year because Sir Terry Wogan is hilarious with his dry wit. This year Graham Norton (we love him!) took over, mocking the contestants and hosts and well everything. I was shocked at how nice he was through it all, but it was an amusing 3 hours and 15 minutes. I wouldn't have spent it any other way (well, I did consider turning off the TV during the Danish transmission because I've been better entertained watching specs of dust float through the air).
Before we begin I just have to mention how ridiculous that the Russian police interrupted and arrested gay demonstrators on the day was. I mean, they were hosting the gayest show in the world and they didn't want gay people in the streets with banners? Idiots. A PR nightmare I'd say. Anyway I'm going to take you through this event in the best way possible.
It started off like it always does with an intro. Since the circus (no, I'm not talking about Britney showing her minky on stage) is so popular in Russia and 40 percent of Cirque du Soleil are Russian it was only natural that they opened the show. The links in the name of the performer and title of the song are to a youtube video of the performance. Click and watch, it's definately worth it.
Next up, last years Russian winner Dima Bilan took to the stage, had a bit of a wardrobe malfunction. Tee-hee.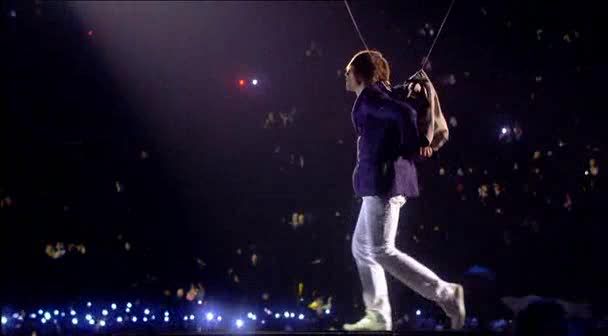 Then he flew through the air with the angel. Nice bulge. Singing, yes he was singing too. His song "Believe". I liked that, the bulge and the song, not so much the hair. At least he wore shoes. He also ran through walls on stage, that was before he started flying.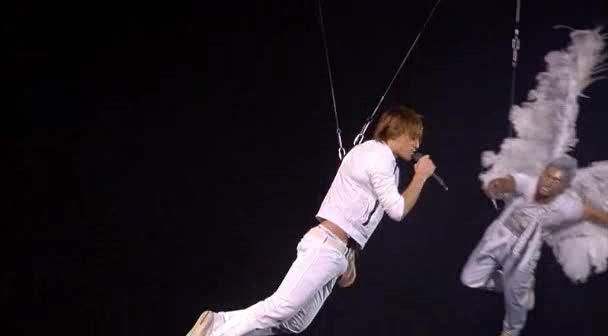 The hosts. The one in the tangerine loo brush dress is Alsou - the female host. She almost won some years ago by singing her song
"Solo"
I think. I liked that song a lot. The man host, he was adorable. His name is Ivan.
The lineup. Remember, you can't vote for your own country, and don't vote now because your vote won't count and you may be charged.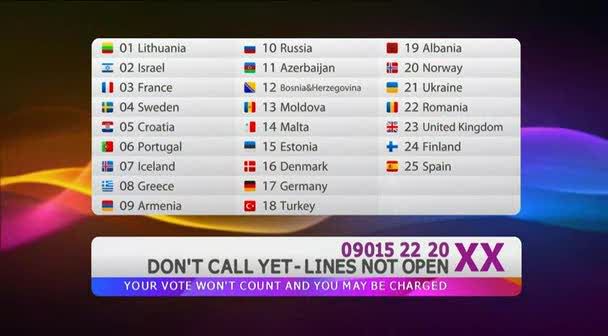 Lithuania.
Sasha Son, Love
. It wasn't very good.
Next up was Israel. It was a very political concept. One of the women is jewish and the other an arab.
Noa & Mira Awad, There Must Be Another Way
. - Really there should be, because that was horrible. Everything from the hideous goth outfits to the atrocious song and bad vocals.
France was the third song.
Patricia Kaas, Et S'il Fallait Le Faire
. Very intense, I felt rather violated and not in the good way. It was as much the song as it was the performance and the look. She scares me. She wore nice shoes though.
After that intense experience we moved on to a bit of popera. Swedens
Malena Ernman, La Voix
. She wore a very expensive, yet ugly dress. Her face resembles the
swedish contestant last year
. I dubbed her Nessie. No doubt this one could sing, but it was just too ridiculous and loud.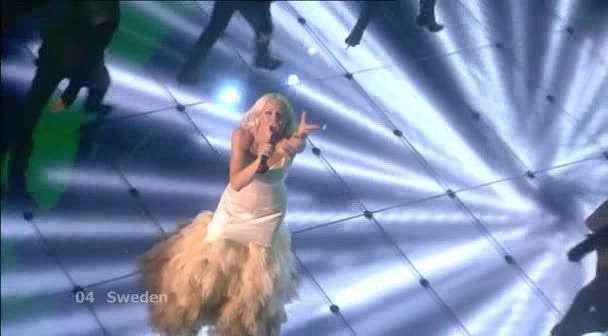 Song number 5 was by
Igor Cukrov feat. Andrea, Lijepa Tena
. I quite fancy Igor for some reason, and that reason is not his hideous boots. The shame! The song not so much. It sounds like the kind these balkan countries dish up every year.
Next up was Portugals
Flor-De-Lis, Todas As Ruas Do Amor
. This is sort of a Portugese, large womans version of Mika. Graham Norton liked this for some reason. I couldn't understand why, but watching it now for the third time...no I still don't like it. It's light years better than last years Portugese entry. Remember the fat women?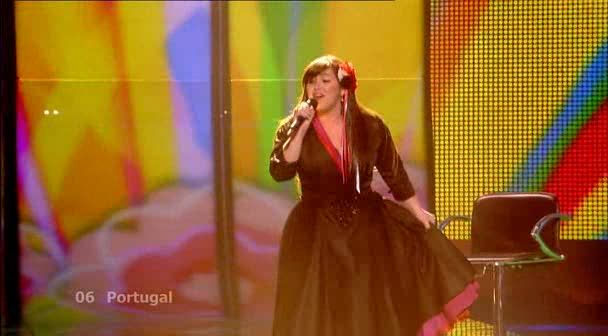 After Portugal came Iceland. Last year I LOVED the Icelandic entry and this year they were, again, one of my favorites. Partly because the girl looks a bit like Rachel McAdams and partly because the song is so beautiful. An added bonus is that she's wearing a blue 1980s prom dress. Her hair is lovely.
Yohanna, Is It True?
Song number 8 came from Greece. Now I liked the Greek entry. Very 80s. It was a catchy pop song, and I really liked his box.
Sakis Rouvas, This Is Our Night
. Another favorite of mine, but unfortunately it wasn't his night.
Song number 9 was from Armenia.
Inga & Anush, Jan Jan
. Apparently they wore traditional costumes. I found the song to be awful, and the women looking like ethnic witches. The dancing seemed a bit like something you'd do before or while putting a curse on someone. Maybe IDV can elaborate?
Next up was the host country Russias entry.
Anastasia Prikhodko, Mamo
(means mother). I didn't like this song. The performance was dull and the dress uninspired. There was absolutely nothing special about it, except for the screens behind her where her face kept aging through the performance. That was a bit nifty. Apparently she is Ukrainian.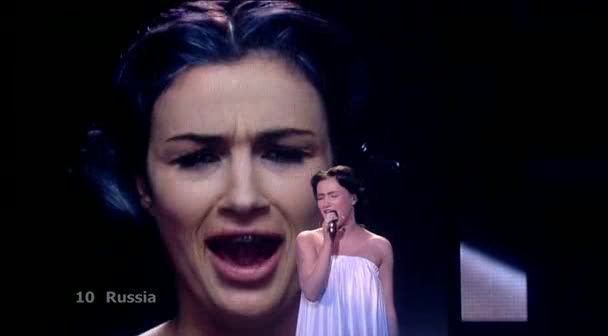 Azerbaijan was up next.
Aysel & Arash, Always
as song number 11. A very catchy song. I liked it. A favorite for sure. Notice her sparkly knickers.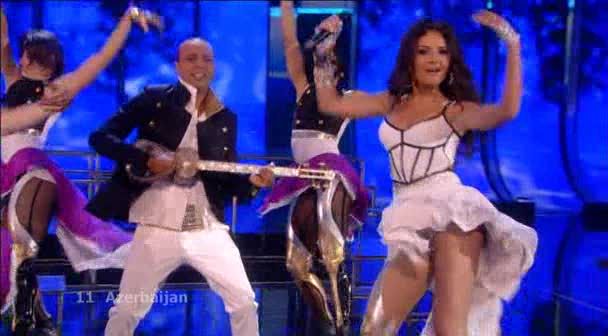 Song number 12 was
Regina, Bistra Voda
from Bosnia & Herzegovina. On a side note, if you click the link you'll get the youtube video and the commentator is the Danish one. Just in case you want to hear how dull he sounds. As far as Regina goes, they are not only an ugly boyband, rivaling Ozone (remember those? Liquid Dreams anyone?) it's also a really bad song.
This was the time for an ad break. While that was happening in most of Europe, both Denmark and the UK were treated to another host. Irena Ponaroshku. She made poor Moscow police etc. singing. Bless. At least it wasn't as atrocious as it was last year in... I can't remember where it was last year. Slovenia? Her hair is pretty.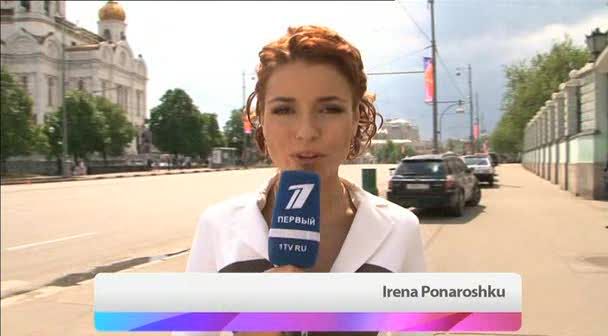 After this little gem, the next song - lucky number 13 was from Moldova.
Nelly Ciobanu with Hora Din Moldova
(you'd think that meant your Moldovan whore but no). Lot's of screaming and jumping. It's a wonder it got any points at all. I never understood why there was a man with a broom in the far corner.
After the Moldovan Hora, we had
Chiara from Malta with a power ballad, What If We
. I really didn't like this one. Graham Norton came up with all the obvious jokes such as how she is very friendly. She never met a Malteser she didn't like. Priceless. Cruel but fun, but she just stood there gesturing with her arms and when she took the mic from the stand she moved the stand with a little trouble. Rather than walking out from behind it.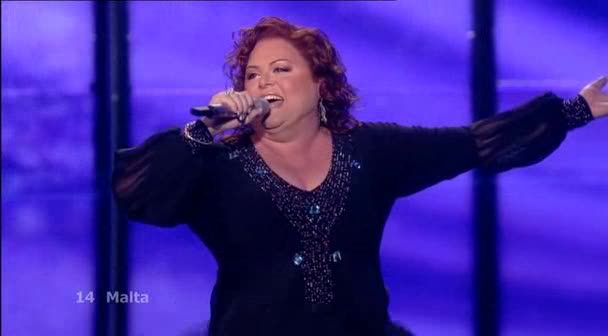 Estonias contribution was up next. Song number 15,
Urban Symphony, Rändajad
. I was hypnotised by her bangs. Other than that, she looked nice. Too bad the song wasn't as good. Still there were worse. There always are. They sure liked the wind machine, like it was just invented.
Song number 16 was Denmarks very own, or well... It's
Brinck with Believe Again
. It was written by Ronan Keating and for some reason this guy performed it as him. The ultimate karaoke I suppose. But why does he stand like that? It looks like he's riding something or doing something little boys may do in their pants. It looks ridiculous.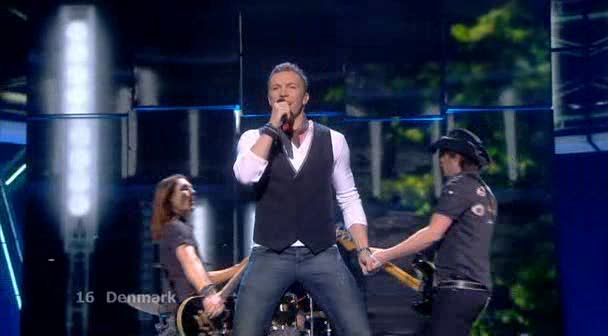 Song number 17 was from
Germany, Alex Swings Oscar Sings, Miss Kiss Kiss Bang
. I absolutely love this because it's Eurovision at it's finest. So kitchy! Get those silver trousers on, get your shirt open and HEY! Miss Dita Von Teese! This is why we love Eurovision. The song is well, if nothing else, then quite catchy and the singer has a bad tan and very surprised eyebrows.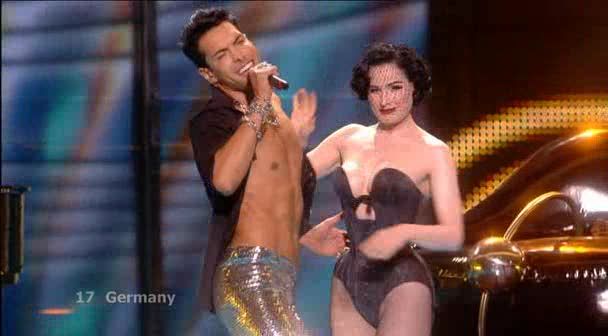 Hadise, Düm Tek Tek
from Turkey was up next. Very catchy. A little too Shakira copy kitten. Could she wear less clothes? I think not.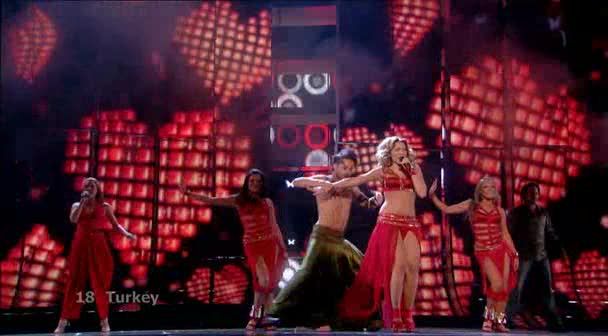 Song number 19 from Albania.
Kejsi Tola, Carry Me In Your Dreams
. This is where the weirdness begins. Blue creature and mimes? Her dress is a little strange too. It's not a favorite of mine that's for sure. Nice shoes though.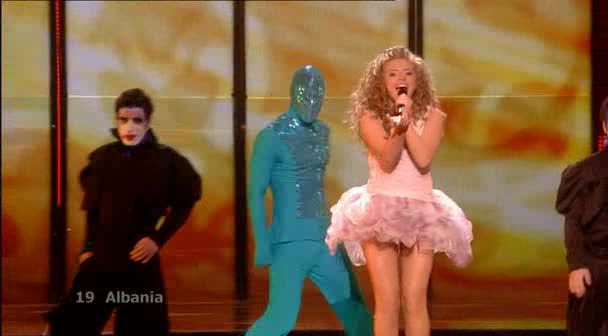 Next up was Norway,
Alexander Rykak, Fairytale
. Complete with violins and a face I'd like to slap. The song is annoying and I just don't get it. It was just too bizarre.
Then the hosts came back. Alsou in a cheap looking wrapping paper dress dating back to sometime in the 1980s. Possibly a bridesmaids dress.
Another favorite of mine.
Svetlana Loboda, Be my Valentine!
from the Ukraine. Obviously not for her or the singing. The song is catchy, and lovely boots though. Her dancers are quite fit too.
Song number 22 from Romania was performed by
Elena, The Balkan Girls
. Very catchy and I quite liked it. Although the girl who appears to be singing the lead vocal looks a bit like the host from last year and that woman was scary! Her voice cut through bone and marrow.
Next up was
Jade Ewen, It's My Time
joined on stage by Lord Andrew Lloyd Webber. This was another favorite of mine. For once I didn't pity vote for the UK. It was great. Jade is also so pretty. She nailed it. It was a bit musical'ish though but I suppose when Lord Webber is involved that's what it's all about.
Song number 24 from Finland took us all back to the 1980s with an Eminem character.
Waldo's People, Lose Control
. Bless. I quite liked the hook but all that rapping was very very very, oh so very bad. At least they didn't send Lordi again. Bless.
Last song of the night came from Spain.
Soraya Arnelas, La Noche Es Para Mi
. A very poor song and for some reason I really didn't like her. The best bit was when she disappeared unfortunately she reappeared again. Damn!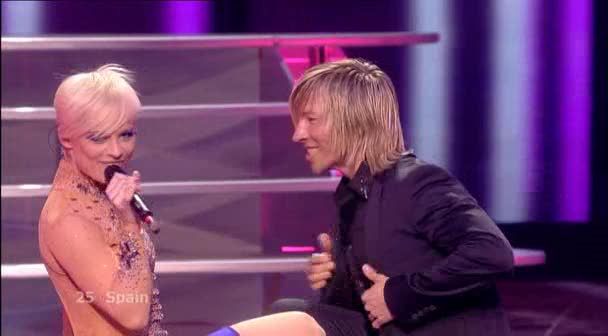 Once the show was over, they had to get the voting started. Since two astronauts at some International space station had nothing better to do, they started the voting.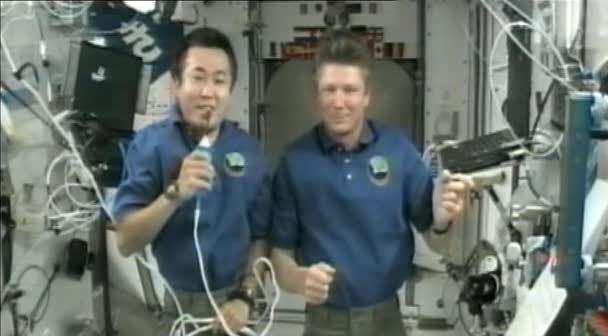 While the voting happened there were some massive plastic pools being lowered down over the audience in which acrobats, swimmers or dancers were doing all sorts of things. It didn't come across as beautifully on screen as I'm sure it did in the venue.
After the votes were counted, they were announced.
A winner was picked, a superior winner vote wise. Notice how the UK made the top 5!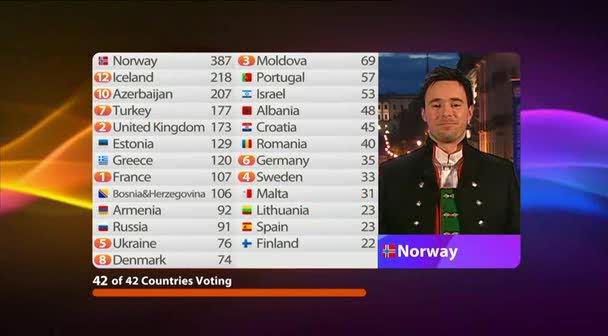 Dima Bilan hesitating giving the Norwegian boy his trophy.
Alexandre: Give me the trophy you old Ruski has been.
Dima: Shuddup, you don't deserve it you Norwegian troll
Bless. Can't wait for next years party! I hope Graham Norton will be back.